---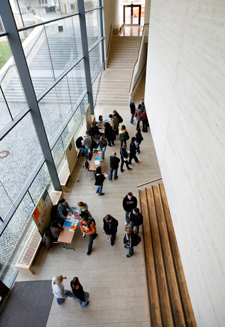 International Students
Consulting Services

All questions concerning vocational choice, job application, job interview, or career entry may also be discussed face-to-face. In an individual consultation you will obtain adjuvant tips, recommendations, and further material for your effective career management.
Adjusted to your CV and personal conception we want to accompany you on your way into a successful professional life.
Please contact us via phone or e-mail to info@career.uni-halle.de to make an appointment.
Seminars & Lectures
Each semester, the Career Center organises seminars and lectures on topics like career orientation, career entry, soft skills, job application, and much more. Most of these courses are held in German and therefore require basic language understanding. Some courses – like our "Job Application Training" – are held in English.
All current dates can be found here.
Individuelles Coaching für internationale Studierende und Absolventen von deutschen Hochschulen
In Kooperation mit der Agentur für Arbeit Halle unterstützt die FAW (Fortbildungsakademie der Wirtschaft) ausländische Studienabsolventen bei ihrem Berufseinstieg. Das individuelle Coaching für internationale Studenten und Absolventen umfasst insgesamt bis zu 40 Unterrichtseinheiten, die in 3 Module aufgeteilt sind. Da jeder Teilnehmer ein Einzelcoaching erhält, können die Laufzeiten der Module individuell bestimmt werden.
Zu den Inhalten gehören u.a. Informationen über Arbeitsplatzsuche, das Erstellen einer vollständigen Bewerbungsmappe, Unterstützung bei der Arbeitserlaubnis und der Aufenthaltsgenehmigung. Nähere Informationen findet ihr auf dem beigefügten Flyer. Am Programm können Absolventinnen und Absolventen mit guten Deutschkenntnissen, die aktuell ihr Studium an einer deutschen Hochschule mit dem Bachelor, Master, Diplom, Staatsexamen oder Promotion beendet haben oder in den nächsten 3 Monaten abschließen werden, teilnehmen. Für die Teilnehmerinnen und Teilnehmer entstehen keine Kosten.
Wer Interesse hat, füllt den beigefügten zweiseitigen Fragebogen aus und übermittelt diesen an:
Agentur für Arbeit Halle
Hochschulteam
06090 Halle
oder per E-mail an
halle.hochschulteam@arbeitsagentur.de
Flyer individuelles Coaching
Flyer individuelles Coaching für internationale Studierende und Absolventen.pdf (454,2 KB) vom 30.03.2015
Fragebogen internationale Absolventen
Fragebogen internationale Absolventen.pdf (162,2 KB) vom 30.03.2015
Job Search
We have compiled different possibilities of searching for a job as well as an overview of a variety of online job portals.
Information about the German employment market
In May 2014 the radio station RADIO CORAX started a project called "Migrant.innen in Arbeit" (MIA). The aim of this project is the improvement of the employment outlook for migrants. During four radio programs the hosts gave important information about the German employment market. It is possible to listen to the shows online:
Migrant.innen in Arbeit (RADIO CORAX)
Internship
At what time is it wise to do an internship? And how many are reasonable? How can it be financed? We have tried to answer these and more questions for you.
Extracurricular Activities
Extracurricular activities do not only allow you to get a broader perspective on things, but are essential to developing soft skills. In the following, we will show you a selection of possibilities in and around Halle University.
International "Stammtisch" (regulars´ table)
Practicing language skills, gaining intercultural experience, meeting new people from around the world! This is what characterizes the International Stammtisch which takes place in one of Halle`s pubs once a month. Usual number of participants: 60-100.
Campus Contact Halle e. V. – Student Consultancy
As part of the association, you have the opportunity to work in consultancy projects and thus are able to combine your theoretical knowledge with practical experience.
SFI – Student Funding Initiative for the Natural Sciences
The initiative supports the natural sciences at Halle University. The members also organise the annual recruitment fair sciencemeetscompanies.
The international student organisation offers students diverse experiences abroad, challenging professional tasks and the possibility to build up a global network with other students, young professionals, companies and organisations.
The student magazine of Halle University is always looking for new writers and photographers. You don´t need any prior knowledge, skills can be acquired in workshops and introductory courses.
Job Application Documents
On the following page, we have compiled the most important tips and recommendations for the creation of effective job application documents.
---
---