---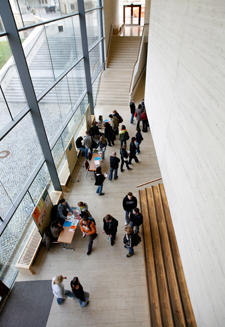 International Students
Career Counseling for Current Students and Recent Graduates

The Career Center offers face-to-face (1:1) career advice in German and English. We will help you to explore your options, find the right position for your skills and interests and make a move into a career you will love. This service is free and confidential. If you have any questions about
Job application
Preparing for interviews
Jobs
Internships
Career start and career planning
Graduate positions
Advanced study options (Masters, PhD etc.)
Or if you are unhappy with your choice of course and have doubts about continuing your course or career
Please do not hestistate to use the central appointment function of our career platform.
Seminars & Lectures & Workshops
Each semester there is a wide range of free seminars, workshops and lectures. You can choose from topics like job application, the perfect interiew and soft skills. Most are in German and therefore require basic German skills, but you can also find English courses. Here is a list of the current seminars, workshops and lectures. You can also find it on Stud.IP. Please register in advance.
All current dates can be found here.
Job Search
We have compiled different possibilities of searching for a job as well as an overview of a variety of online job portals.
Information about the German employment market
In May 2014 the radio station RADIO CORAX started a project called "Migrant.innen in Arbeit" (MIA). The aim of this project is the improvement of the employment outlook for migrants. During four radio programs the hosts gave important information about the German employment market. It is possible to listen to the shows online:
Migrant.innen in Arbeit (RADIO CORAX)
Internship
At what time is it wise to do an internship? And how many are reasonable? How can it be financed? We have tried to answer these and more questions for you.
Extracurricular Activities
Extracurricular activities do not only allow you to get a broader perspective on things, but are essential to developing soft skills. In the following, we will show you a selection of possibilities in and around Halle University.
In the ASQ course "International Engagiert Studiert" you can do a project for a charity organization in a team of international and german students.
International "Stammtisch" (regulars´ table)
Practicing language skills, gaining intercultural experience, meeting new people from around the world! This is what characterizes the International Stammtisch which takes place in one of Halle`s pubs once a month. Usual number of participants: 60-100.
Campus Contact Halle e. V. – Student Consultancy
As part of the association, you have the opportunity to work in consultancy projects and thus are able to combine your theoretical knowledge with practical experience.
SFI – Student Funding Initiative for the Natural Sciences
The initiative supports the natural sciences at Halle University. The members also organise the annual recruitment fair sciencemeetscompanies.
The international student organisation offers students diverse experiences abroad, challenging professional tasks and the possibility to build up a global network with other students, young professionals, companies and organisations.
The student magazine of Halle University is always looking for new writers and photographers. You don´t need any prior knowledge, skills can be acquired in workshops and introductory courses.
Job Application Documents
On the following page, we have compiled the most important tips and recommendations for the creation of effective job application documents.
---
---