---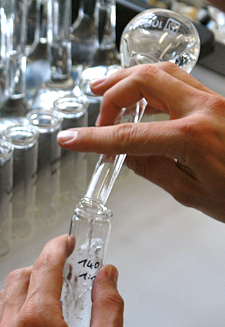 Internship
How important are internships? At what time is it wise to do them? And how many are reasonable? How can they be financed? We have tried to answer these and more questions for you.
When to do an internship – before, during or after your studies?
Basically the following applies: It is wise to do your internships during your studies. This way, you have the chance to put the knowledge you gained at the university into practice and you get first insights into everyday work life.
Only a few subjects of study aim at certain occupational fields. Career objectives usually have to be developed and concretized by the students themselves during their studies. Internships can be an important help here.
Furthermore, internships are a great way to establish contacts to companies which might be helpful during the process of your career entry.
It does not make very much sense to move from internship to internship after your graduation just to avoid gaps in your CV. Even if there are some companies that see internships as a kind of nonbinding trial period, this is usually the exception. The decision to do an internship after your graduation should be well-considered. A multitude of internships after your final degree might irritate potential employers.
How do I find a suitable internship?
There are a variety of ways to find an internship. Most companies publish their offers on their website and in job-portals. Other possibilities are recruitment fairs and information events (e.g. at your university) where you can get in direct contact with the companies.
You can also speak to your professors and other lecturers at the university as they often cultivate a selection of business contacts.
When searching for an internship abroad, your contact points are the International Office of Halle University, the Leonardo-Office , IAESTE , or AIESEC .
You can also find a multitude of regional, national and international internship offers on our job portal or here.
When should I start my search?
Especially when it comes to well-known, big companies and institutions, internships are in great demand and hard to get. It is therefore wise to start your search early on.
The search for an internship should be started about six months before your desired starting date, for an international internship even 6-12 month before. This way you are able to react more flexible to refusals and look for other possible companies.
Am I entitled to get BAföG during the internship?
If you get BAföG during your studies, the following applies:
Usually the relevant departments differentiate between mandatory and voluntary internships. When doing a mandatory internship before or during your studies, you are entitled to get financial support. If the internship is compensated, you have to observe certain income limits, as the compensation may otherwise be credited against your income. There is no right to financial support via BAföG if the internship is done voluntarily.
It is always advisable to ask your BAföG-department in charge before beginning an internship. At Halle University, a helpful contact is the Studentenwerk .
What about internships abroad?
Internships abroad are always welcomed on a CV, as they not only offer professional experience but also the possibility to strengthen your language skills. Furthermore, work experience abroad shows intercultural competence, open-mindedness, and flexibility.
At Halle University, contacts for information about doing an internship abroad are:
Are there any possibilities to finance an internship abroad?
There are several institutions that support students during their internship abroad. For precise information please contact the International Office of Halle University or the Leonardo-Office of Saxony-Anhalt .
How many internships should I do during my studies?
Of course, the answer to this question depends on your own commitment, the job profile and your field of study.
In areas like business studies, media and communication science, and most programs in the humanities, it is expected to gather work experience during your studies. So 2-3 internships are quite a good idea. They can be done in different fields although it is advisable to have them follow a central theme.
During the application process, one long internship is probably considered more qualifying than multiple short ones. Still, your own career orientation might profit from several impressions.
Internships are also advisable for students of the natural sciences. Apart from a practical module at the university, it is good to do non-academic internships to get some first impressions of possible vocational fields.
Which internship is the right one for me?
The following checklist might help you to figure that out:
I want to see, if the aspired job is the right one for me.

I want to get to know a certain sector.

The company should offer me the opportunity to discover different departments.

I only want to learn / expand certain technical skills.

Primarily, I want to broaden my personal horizon and learn something new.

Image and name of the company are very important for me concerning my CV.

I want to gather experience abroad.

I am willing to move to another town or abroad for my internship and am able to shoulder associated costs.

My internship can be up to x weeks/ months long.

If necessary, I am ready to take a semester off for the internship.

I am flexible with my time./ I am not flexible with my time due to exams or the like but can already name a preferred timespan.

I am ok with working for a minimum (or even no) wage.
If you are still not sure about doing an internship or which one is right for you, please feel free to contact the Career Center – we are happy to help you in a personal consultation.
How do I know that the internship will live up to its promise?
The risk of working for an employer who is using interns as cheap employees does exist. And there is no way of completely eliminating it. Still, it is possible to minimize the risk by researching reports from former interns on their experience with potential employers.
Here are a few links on that topic:
German websites:
English websites:
The experiences of older fellow students and the consultants at your department may also be quite helpful and interesting.
---
---